TI 65: THE PROFESSIONAL ASTROGRAPH
---
The TI 65 Astrograph range include four models to match every needs of modern research.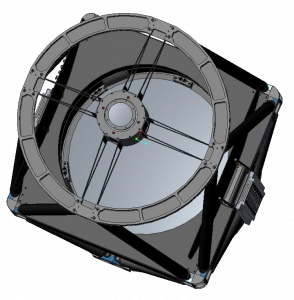 TI 65 f/2.6 WPF- 1690 mm of focal length for extremely fast optics. It is based on a direct PRIME focus parabolic primary mirror with a 6.5″ Wynne corrector with 82 mm of back-focus. It offers highest productivity per night, great advantage for super-nova search, surveys, asteroids, and other fields of modern astronomy.
TI 65 f/3.5 – 2275 mm of focal length for very wide corrected field and very fast optics. A killer for astroimaging setup.
TI 65 f/4.7 – 3050 mm of focal length suitable for general use while maintaining an excellent focal ratio that allows reduced exposure times with respect RC and CDK system.
TI 65 f/6.2 – 4030 mm of focal length for deeper sky objects when excellent seeing condition allows the maximum resolution
The TI 65 f/3.5 and f/4.7 are based on a Modified Harmer-Wynne optical configuration.
The TI 65 f/6.2 is based on a Corrected Cassegrain optical configuration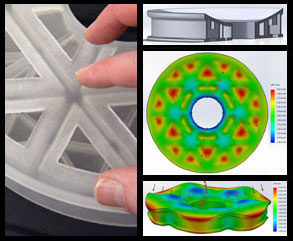 Each TI65 model use a special designed and FEM optimized lightweighted mirrors. Both primary and secondary. Their mirror are made using Schott Borofloat that perform better mechanical and thermal characteristics than Schott classical borosilicate glasses.
Our FEM optimized lightweighted mirrors allows for TI65 models a glass weight saving of about 30 kg. It brings high advantage both in terms of thermalization time and in terms of holding structure masses. All this lets less deformation on structures and on mirrors itself and less weight and moment of inertia on your mount.
TI 65 – 2.6
Aperture: 650 mm
Focal length:  1690 mm – f/2,6
The fastest in its class
TI 65 – 3.5
Aperture: 650 mm
Focal length:  2275 mm – f/3,5
The optimal Astrograph
TI 65 – 4.7
Aperture: 650 mm
Focal Length: 3050 mm  – f/4,7
All-around Astrograph
TI 65 – 6.2
Aperture: 650 mm
Focal length:  4030 mm – f/6,2
The deepsky Astrograph
TI 65 THE MOST IMPORTANT FEATURES:
Effective optical aperture: 650 mm – Awesome optical performances for each model
High-End Lightweight Borofloat Schott mirrors
Extreme lightness – it allow a OTA weight around 80 kg that permits a 100 kg class commercial mount to be used
Extreme stiffness and thermal stability (thanks to extensive use of carbon fiber and carbon fiber sandwich)
Easy collimation
Built in integrated secondary mirror (Wynne corrector for WPF model)  high precision electronic focuser (ASCOM Alpaca compatible)
Built in integrated TI110 mm electronic field rotator (ASCOM Alpaca compatible) – Not avaliable for TI65 WPF 2.6
Built in electronic control boards and proprietary software for a full WI-FI control of the telescope
Automated dust cover (ASCOM Alpaca compatible)
Extreme modern Italian design
TI 65 ASTROGRAPH TECHNICAL DATA
TI 65 WPF 2.6
TI65 3.5
TI 65 4.7
TI 65 6.2
Overall Dimensions (mm)
1800 x 850 x 850
1340 x 850 x 850
1590 x 850 x 850
1570 x 850 x 850
Weight (kg)
82
86
86
84
Focal length (mm)
1690
2275
3050
4030
Optical Configuration
164 mm Wynne Prime Focus
Modified Harmer-Wynne
Modified Harmer-Wynne
Corrected Cassegrain
Parabolic Primary Mirror
Diameter (mm)
660
Thickness (mm)
90
Effective optical aperture (mm)
650
Material
Schott Borofloat Lightweight
Coating
Alum. Enanced >94%
Secondary Mirror
Diameter (mm)
-
344
320
270
Thickness (mm)
-
40
40
35
Shape
-
Spheric
Spheric
Hyperbolic
Material
-
Schott Borofloat Lightweight
Coating
-
Alum. Enanced >94%
Corrector
Type
3-Lenses ED
3-Lenses ED
3-Lenses ED
2-Lenses
Corrector lens diameter (mm)
164
162
162
120
Coating
Multy layers 400-900 nm
Real Diffraction Limited field diameter (mm) (considering Polychromatic 400/700 nm)
51
72
>100
68
Effective Obstruction (of the secondary baffle) (%)
30,8%
54,8%
50,7%
43,1%
Light incoming (% of aperture area)
90,2%
79,8%
73,9%
81,2%
Back Focus from rear flange (mm)
82
195
220
225
Loss of light (vignetting) @ 26 mm from axis (%)
6,5%
1,7%
1,1%
1,0%
Loss of light (vignetting) @ 30 mm from axis (%)
12,5%
4,0%
3,9%
1,8%
Spot Diagram RMS Diameter @ 26 mm from axis - Poly 400-700 nm (micron)
3,76
2,66
2,12
3,84
Spot Diagram RMS Diameter @ 30 mm from axis - Poly 400-700 nm (micron)
6,58
2,96
2,33
4,68