TI45: A new generation  Harmer Wynne Astrograph
The TI 45  is a new generation astrograph born after  in-depth and extensive studies lasted five years.
It has 450 mm of optical aperture and it combines a number of innovative features and special solutions.
The TI 45 Astrograph range include four models:
TI 45  – f/3.5  Focal length: 1575 mm – NEW MODEL
TI 45  – f/8.0  Focal length: 3600 mm
TI 45  – f/5.2  Focal length: 2350 mm
The fast f/3.5 and the f/5.2 models are based on a Modified Harmer-Wynne optical configuration with three elements corrector.
The "all-around" f/8 configuration, is based Corrected Cassegrain with two elements corrector.
Fused Silica (Quartz) primary mirror  is available as option (see Price List).
Fused Silica (Quartz) performs an awesome thermal expansion coefficient of 5.4 x 10-7/℃ , 6 time less than borosilicate glasses.
Lightweight Quartz primary mirror is available as option (see Price List). Near-to-zero CTE material + lightweight shape = best solution.
---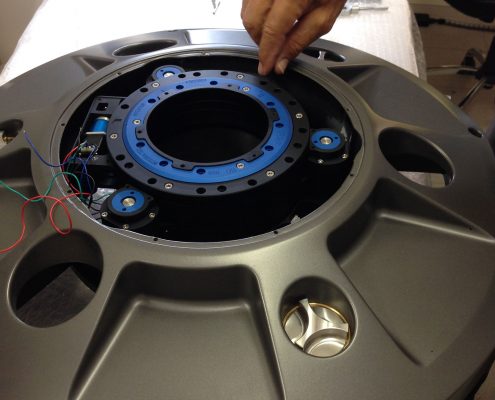 The design was carried out by a professional team driven by an aerospace engineer.
Mechanical design was performed in a 3D environment and FEM analysis have driven the sizing of the components.
In the TI45 DFL model the rear flange include an integrated electronical focuser and 110 mm field rotator designed and manufactured with the best performances ever seen. The other TI45 models still have the TI110 Field Rotator inside the rear flange and perform an extremely precise secondary mirror focusing system.
From optical, mechanical, electronic and design point of view, the TI45 Astrograph is the most advanced telescope which you can find on the world market.
The TI 45 3.5 Astrograph: NEW MODEL
We wanted to include a TI45 model with the focal length still reduced to f/3.5 to be in line with the other models. This model with such optical performance will be the new benchmark for today's increasingly demanding market in terms of shooting speed and corrected field.
TI45 – 3.5 – NEW MODEL
Aperture: 450 mm
Focal Length  1575 mm – f/3.5
The fast Astrograph
TI45 – 5.2
Aperture: 450 mm
Focal Length  2350 mm – f/5.2
All-around Astrograph
TI45 – 8.0
Aperture: 450 mm
Focal Length  3600 mm – f/8.0
The deep-sky Astrograph
THE TI45 MOST IMPORTANT FEATURES:
Effective optical aperture: 450 mm
Awesome optical performances for each configurations
Extreme stiffnes and thermal stability (thanks to extensive use of carbon fiber)
Extreme lightness  (thanks to extensive use of carbon fiber)
Easy collimation
Compact dimensions
Built in electronic control boards
WI-FI Telescope Control Software
Optional in 4″ electronic field rotator (ASCOM Alpaca compatible)
Optional dust cover system (ASCOM Alpaca compatible)
Integrated electronic focuser  (ASCOM Alpaca compatible)
Extreme modern Italian design
TI 45 Astrograph -
Technical data
f/4
f/8
f/5,2
Overall dimensions (mm)
560x560x1020
560x560x1120
560x560x1140
Weight (kg) - Standard mirrors
43
42 (45 DFL model)
42
Focal length (mm)
1800
3600
2350
Optical Configuration
Modified Harmer-Wynne
Corrected Cassegrain
Modified Harmer-Wynne
Parabolic Primary Mirror
Diameter (mm)
462
Thickness (mm)
50
Effective optical aperture (mm)
450
Material
Borosilicate glass
Coating
Alum. Enanced >94%
Secondary Mirror
Diameter (mm)
238
166
220
Thickness (mm)
24
20
22
Shape
Spheric
Hyperbolic
Spheric
Material
Borosilicate glass
Coating
Alum. Enanced >94%
Corrector
Type
3-Lenses ED
2-Lenses
3-Lenses ED
Corrector lens diameter (mm)
126
94
136
Coating
Multy layers 400-900 nm
Real Diffraction Limited field diameter (mm) (considering Polychromatic 400/700 nm)
83
72
90
Effective Obstruction (of the secondary baffle) (%)
54,6%
38,7%
50,7%
Light incoming (% of aperture area)
70,0%
83,8%
74,1%
Back Focus from rear flange (mm)
188
188
200
Loss of light (vignetting) @ 26 mm from axis (%)
5,0%
5,0%
3,5%
Loss of light (vignetting) @ 30 mm from axis (%)
11,0%
7,0%
7,5%
Spot Diagram RMS Diameter @ 26 mm from axis - Poly 400-700 nm (micron)
2,2
4,52
2,22
Spot Diagram RMS Diameter @ 30 mm from axis - Poly 400-700 nm (micron)
2,58
6,64
2,57